Strategic Plan
Inside KDHX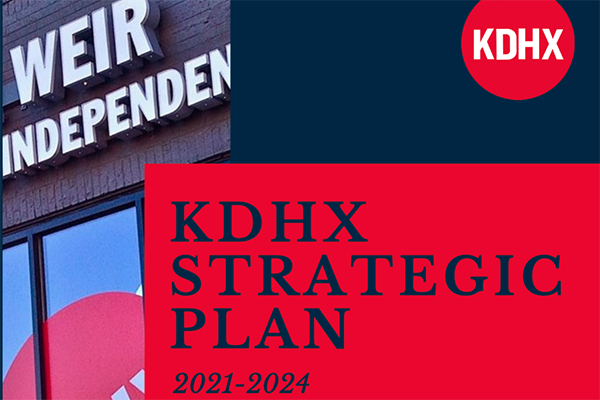 KDHX Strategic Plan 2021-2024
By KDHX
The past decade at KDHX can be characterized by tremendous transition, growth, and obstacles. It is at this critical moment that the KDHX Board of Directors, Community Advisory Board, staff, volunteers, donors, and listeners engaged in a stakeholder-driven strategic planning process over 7 months in 2020. Together, we sought to answer one primary question:
How must KDHX boldly adapt and grow in order to advance its important mission - to build community through media?
As part of the strategic planning process, KDHX stakeholders helped reaffirm the mission, develop a new purpose, provided critical feedback, and ultimately helped develop three topline goals. 
Mission & Purpose
Mission: To build community through media
Purpose: KDHX uses the power of music and education to engage and unite individuals and communities.


What We Heard
Volunteer & Community Engagement
Stakeholders indicated that they were looking for more opportunities for further, deeper engagement with the station and with the community.
Communication
All stakeholder groups indicated that they wanted to hear more from KDHX through mediums in addition to radio.
Diversity, Equity & Inclusion
The perception among some of the station's biggest champions indicates racial and cultural bias has impacted staff and volunteer culture as well as donor satisfaction.
Fundraising
Stakeholders indicated a desire to protect the station's many capital investments and for more transparency about the station's financial state and fiscal management.


Goals
1. ENGAGE COMMUNITY & EXPAND AUDIENCE
By 2024, KDHX has shown an increase in listenership, which will be achieved by strengthening its dynamic programming, and deepening external connections to better serve and engage the full diversity of the St. Louis community.
2. BUILD ANTI-RACIST CAPACITY
As part of an explicit commitment to anti-racism, by 2024, KDHX will identify systemic barriers to racial equity in its industry, in St. Louis, and within KDHX; will institute policy changes and cultural shifts to overcome those barriers; and will serve as a catalyst for accelerating action toward a racially equitable St. Louis.
3. INCREASE FINANCIAL STEWARDSHIP & MANAGEMENT
By 2024, KDHX will increase fundraising by 15% by diversifying fundraising streams and implementing sector best practices for stewardship and financial management.
[Download Strategic Plan Summary]
[Download Full Strategic Plan]
[View Operationalizing Work Group Executive Summary + Anti-Racism Charter]