Inside KDHX
Inside KDHX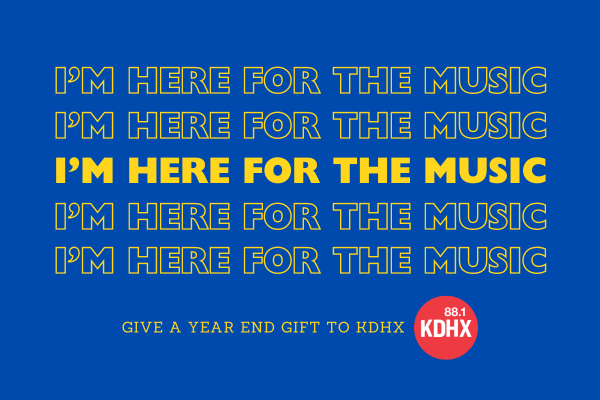 I'm here for the music!
Over the next two months you are going to be seeing messages and hearing from many of KDHX's volunteers telling you why they are "here for the music."
If you tune in to KDHX for the music and the connection please give a Year-End gift today. You can give a single gift of any amount or start a monthly gift of $10, $20 or $30. Visit Support.KDHX.org to give today.
---
I'm Jan, host of KDHX's Global Grooves and I'm here for the music. I love inviting you all to ride the airwaves of KDHX around the globe with me every week. Sharing world music on KDHX with you is a privilege and a joy. And like you, I tune into KDHX to listen to my favorite shows and try out new ones. I'm here for the music that expands our horizons. I'm asking that you donate to support the depth, breadth, and diversity of music for the community that is KDHX.
Thank you,
Jan
Host of Global Grooves
Mondays, 2-4 p.m.
---
Hi, I am Your Lady Edie B. I'm here for the music. I love music. It feeds my soul, especially jazz. At KDHX, I have the freedom to create moods, paint pictures, and give my heart and soul to my listeners musically without restraints. I'm in heaven every Sunday night from 10 p.m. to midnight, and I'm grateful.  
 
It's important to support KDHX because in order to continue the unique 24-hour programming, we need donations. We are commercial free and we serve the community, not just locally but the world community. KDHX gives music lovers like me a home to share my 40-plus years as a radio host with those who want to continue to listen to the music I have grown to love. Jazz.
Thank you,
Your Lady Edie B
Host of R.S.V.P.
Sunday 10:00 p.m. to midnight