Classical
Classical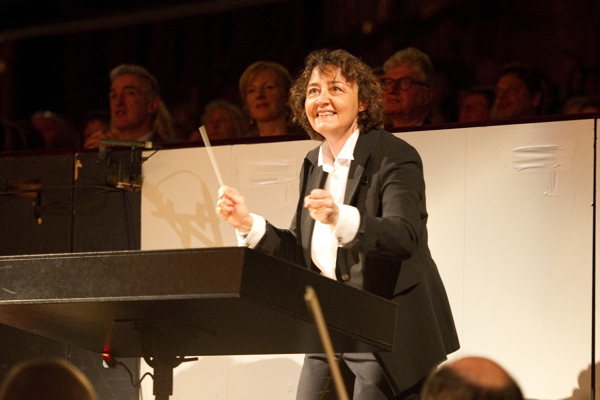 In her SLSO debut, Natahlie Stutzmann puts a unique and joyous stamp on familiar classics
By Chuck Lavazzi
The St. Louis Symphony concerts this weekend (April 22-24, 2016) offered a remarkable study in contrasts, with familiar classics by Mendelssohn, Sibelius, and Dvořák getting novel, idiosyncratic, and very compelling interpretations by French singer and conductor Nathalie Stutzmann in her SLSO debut.
Ms. Stutzmann's dual career path as both a singer and conductor is unusual, if not unique. And while I don't want to read too much into that, it's hard not to hear in her performances the kind of direct emotional connection that I get from an accomplished singer.
In the cabaret world we talk a lot about the importance of having a strong emotional connection to the music and lyrics of our songs. That's the kind of strong connection I heard in Ms. Stutzmann's approach to the oft-heard works on the program this weekend. It made me hear them in different ways that shed new light on the music. In this respect she reminded me of the late Leopold Stokowski, whose work I admired tremendously even when it wasn't entirely to my taste--which was sometimes the case with Ms. Stutzmann.
The exceptionally delicate and slow opening of Mendelssohn's The Hebrides (Fingal's Cave) Overture, for example, suggested an overblown and even lethargic approach to this depiction of the Scottish seacoast. But while Ms. Stutzmann's extreme contrasts of tempo and dynamics sometimes felt more appropriate to Bruckner than Mendelssohn, the overall result was fascinating and even revelatory at times. To pick just one example: the full-orchestra climaxes, with Shannon Wood's tympani projecting forcefully over the rest of the band from his position on an elevated platform upstage center, vividly evoked the stormy landscape that had so impressed Mendelssohn. I wouldn't call this a definitive interpretation by any means, but I'm glad I heard it.
There was a similar interpretive freedom in the Sibelius Violin Concerto which, like the Mendelssohn, opened so quietly that the first few notes were almost inaudible, with soloist Karen Gomyo's entrance seemingly floating in from another plane of existence. This was another ear-opening performance, with orchestral details revealed in high contrast. It made the long-winded first movement feel even more discursive than it usually does, but the overall result was stunning in its impact.
It helped that Ms. Gomyo is such a technically proficient and artistically committed performer. The violin was Jean Sibelius's first musical love and his concerto is both thoroughly idiomatic and incredibly demanding. The long solo passages in the first movement and virtuoso fireworks in the finale will test the mettle of the best performers. Ms. Gomyo handled it all with aplomb, delivering the intense passion of the second movement and fireworks of the third with equal credibility. She was also completely in synch with Ms. Stutzmann, often moving and (seemingly) even breathing together.
The concluding work on the program, Dvořák's Symphony No. 7 in D minor, Op. 70 has always been a favorite of mine, for reasons that are difficult to articulate. I can't hear it without thinking of a long journey down a dark mountain river. Flashes of light illuminate the trip, but we don't see the sun until the work's final moments, when the tonality changes from D minor to D major.
Maintaining a strong rhythmic pulse and a sense of momentum, then, have always been the hallmarks of a great Dvořák Seventh for me. Ms. Stutzmann's interpretation had both, despite an opening tempo which felt a bit slow but turned out in the end to be exactly right for the musical structure she was creating. By the time she got to the end of the energetic third movement Scherzo, she had built up such a head of steam that the decision to go straight to the final movement attacca (without pause) felt not just right but actually inevitable. I wouldn't want this to be anyone's only exposure to Dvořák's masterpiece, given the number of fine recordings available out there, but it was entirely original and, taken on its own terms, entirely successful.
Ms. Stutzmann's style on the podium, by the way, is as uniquely personal as her conceptualization of the music. She sways and dances with the music, virtually sculpting phrases out of the air with gestures that could be encompass everything from her fingers to her entire upper body. And she does it all with a delighted smile that suggests a real pleasure in the business of making music. That sense of joy on the part of a performer is always infectious and goes a long way towards winning over an audience.
Next at Powell Hall: David Robertson conducts the orchestra in two different programs April 29 through May 1. With violin soloist Celeste Golden Boyer, he presents a Whitaker Foundation Music You Know concert on Friday, April 29, at 8 p.m. that features works by Ponchielli and Dukas as well as a new work by Stefan Freund. On Saturday at 8 p.m. and Sunday at 2 p.m., he conducts the local premier of William Kraft's Tympani Concerto No. 2 with soloist Shannon Wood, as well as Schubert's monumental Symphony No. 9 ("The Great"). For more information, visit stlsymphony.org.
Related Articles